What's everyone's favorite holiday music? Versions, artists, etc...


I just made the burger patties for our cook out tonight. Equal parts venison, beef and pork. My mouth is watering just thinking about them. Our friends B&S are coming. That means sweet corn. I don't know exactly what he feeds it, but I'm quite certain that B grows the best sweet corn the world has ever seen. I also hope he brings some of his homemade kimchi. Amy is on a bike ride with B and some others, she was going to drop some hints :)

Now I'm off to the store to pick up tequila for the margaritas!
Can anyone identify the movie quote?


Speaking of travel, a very interesting thing that my GPS is doing, now that we are in a French speaking area, it's speaking numbers in French... but enough about bilingual electronics. The day was a bit dull for me. Amy did the race check in, went to the expo etc. All of this is at a pedestrian village at he base of the mountain. It's very picturesque, made up of restaurants, expensive shopping, and various forms of lodging. I don't think my pictures will do it justice, though I might try with my super wide angle tomorrow.

Amy;s is off at the welcome banquet tonight. I gave up my ticket so the coordinator of her race team could go. We had dinner with some of her teammates last night, and I was happy to give up my ticket, I was the odd man out, not being an endurance athlete and not wanting to be one.

And the race gets ever closer...

Edit - I forgot to mention, our hotel kicks ass. Our room is a suite. It has a fireplace, kitchenette and dining table, plus a loft with a second queen size bed and dresser. Very nice. The hot tub is in need of a new motor, but at least the water is hot... I will also mention that my French is completely gone. There was a time in my life where I could get by. Not any more. I think I'm going to buy the Rosetta stone software, I've heard it's quite excellent. Or maybe my GPS could give me lessons...
The drive took us about 7 hours to get from Cooperstown to Mont Tremblant. My GPS originally thought 6 or so, but we lost time to a couple of stops (lunch and bathroom breaks), the border crossing and a whole lot of really bad traffic in Montreal. There appears to be a whole lot of "traveaux" tying up the highways. The border crossing was quick and painless, probably because of the tri bike on the back and the fact that the guard knew about the race. There have been times where the line of questioning made it seen like we were smuggling guns into Canada.
My house is at about 1200 feet above sea level. This is probably about 1500-1700 feet.
Where I live is very hilly. There are multiple valleys with rivers or streams running through them. This is a panorama from the top of Murphy Hill, about 4 miles from my house...

This morning either Jasper, Jazz or both of the managed to get into the garage and found a salt cured deer skin (yum!). By the time that Amy liberated the skin from them there was fur all over the front yard... Gotta love dogs... Although I suppose it says something about my that I have salt cured deer skins in my garage. (Insert redneck joke here).
The tents are set up for a livestock show...
iPhone capture
.

Hazelnut...Queen of the Guest Bedroom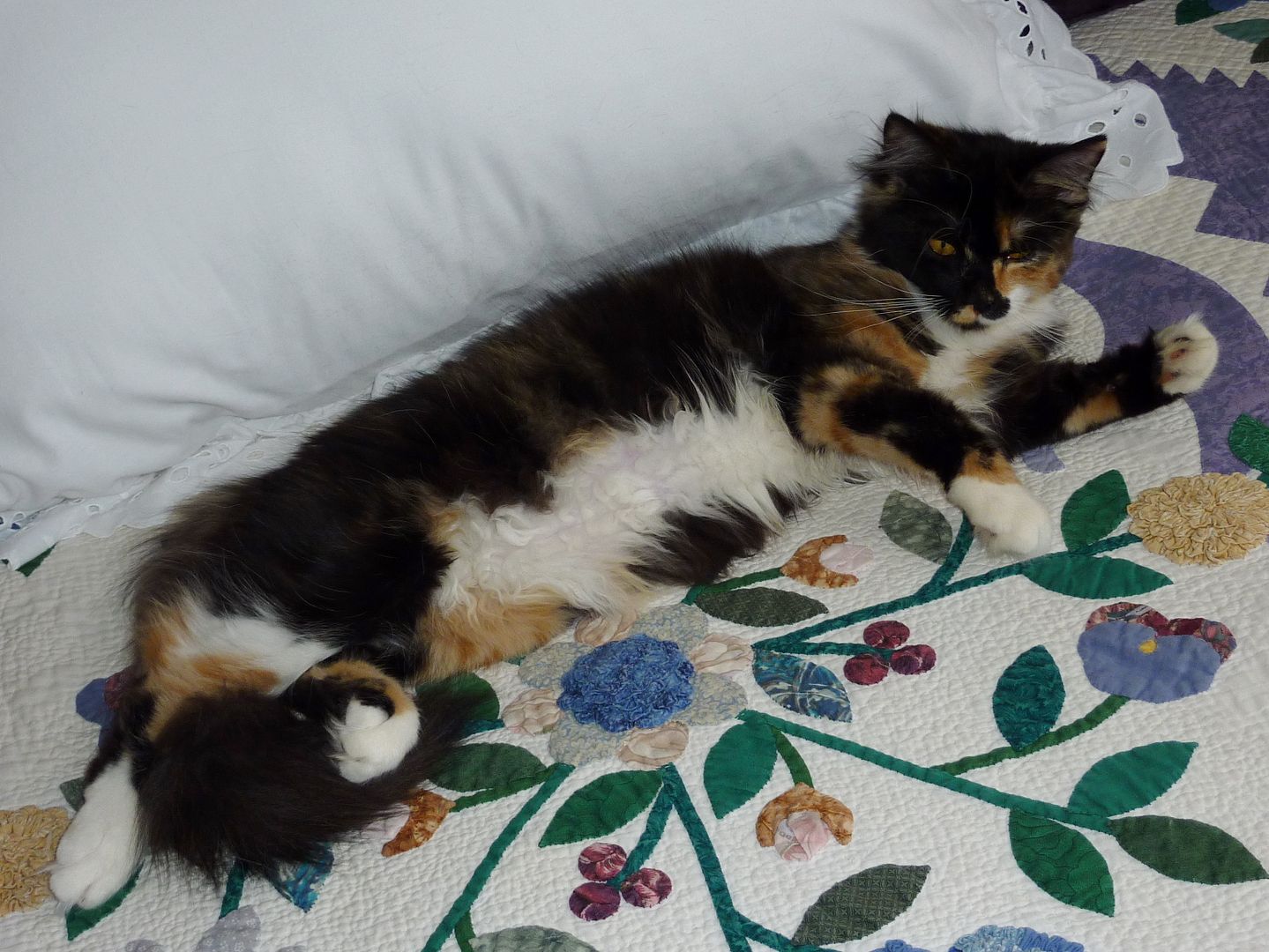 Pig: Relaxing or Roadkill?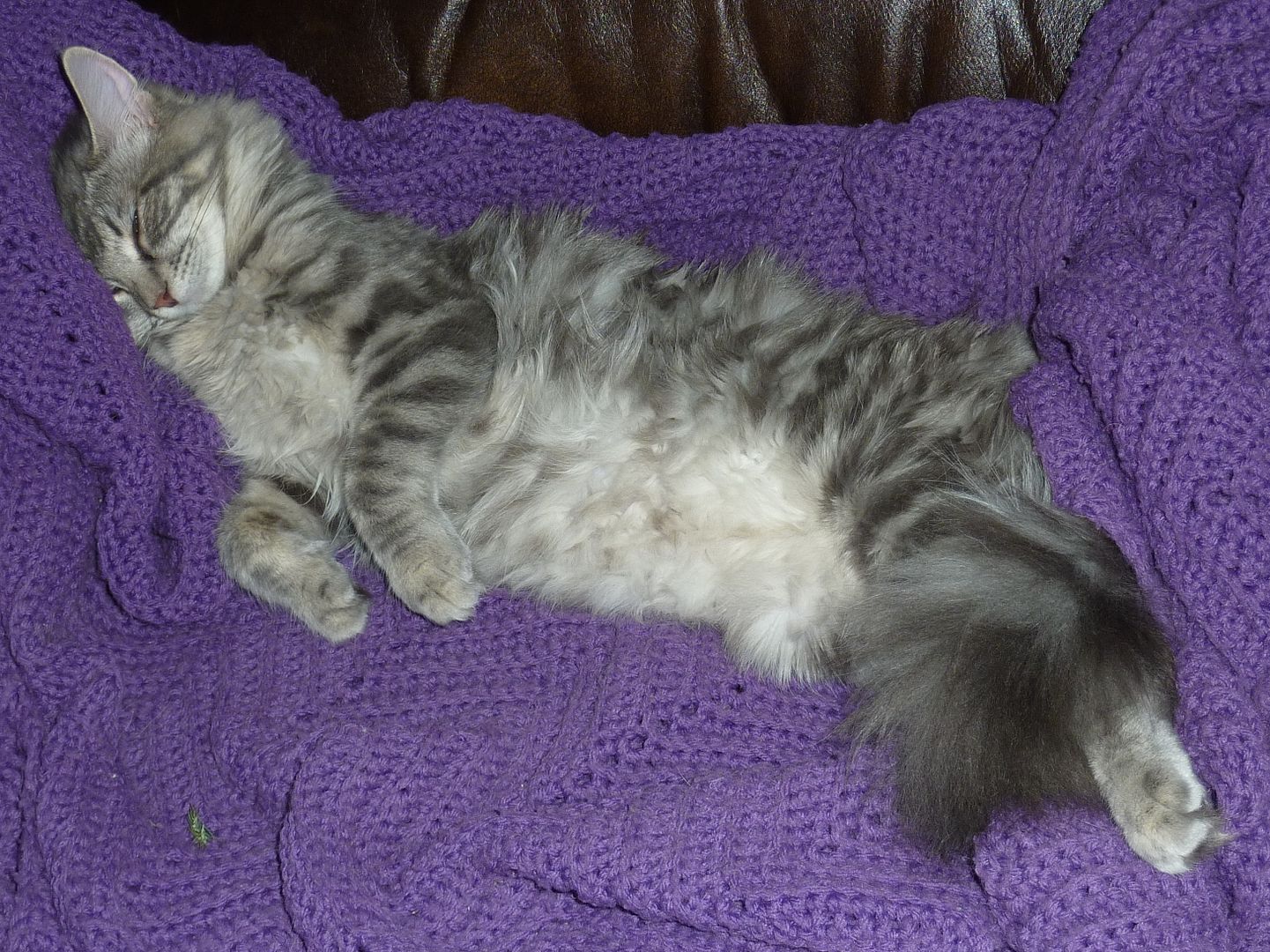 .

2. Soundtrack to a Charlie Brown Christmas by Vince Guaraldi (always brings to mind Linus' speech to Charlie Brown on what Christmas is about...never ceases to bring a tear to this pagan's eye)
3. Jethro Tull Christmas Album by Jethro Tull (a delightful mix of modern and remixed classics, with a couple of excellent pagan nods)
4. A Midnight Clear by John Nilson (pleasant piano versions of holiday standards..)
5. A Fresh Aire Christmas by Mannheim Steamroller (very haunting version of the Holly and the Ivy always makes my eyes tear)
1. December by George Winston (always the first played of the season, usually the song "Thanksgiving" on Thanksgiving...